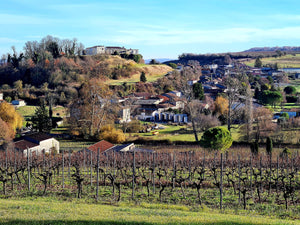 Independent bottler of cognac
Malternative Belgium is Ysatis and Pieter's heart project and is probably the only independent bottler that focuses entirely on cognac.



Wait a minute... cognac? Yes, cognac! Of course we are focusing on Armagnac here, but Cognac also has extremely exciting wines to offer! Due to the high quality of the Malternative Belgium releases, Sascha was a loyal fan even before the start of Armagnac.de and we are all the more pleased to be able to offer Pieters and Ysatis bottlings in our shop!

So far there have been the following Malternative Belgium releases:
#1 Le Debut
#2 Mon Petit Tresor
#3 La Corbeille de Fruits
#4 Le Bon Vivant
#5 Buche de Noël
#6 La Fine Fleur
#7 Le Tetu
#8 Le Voyageur
#9 Avec Allure
#10 La Fete
#11 Les Patissiers
#12 La Fleche de Feu
#13 La Boutique
#14 Le Brule
#LBV1
#15 La Roseraie


Interview with Pieter Knappen (July 2022)
You recently opened your own cognac shop in Hasselt. How is it going so far and what made you decide to open a shop?
Hello Sascha, first of all thank you for the good cooperation so far and the interest in our cognacs and our company.

Our company Malternative Belgium was founded in 2020. A week before the country went into lockdown due to the corona crisis, our first bottling came out. At that time, the economic situation was very uncertain, so we initially focused on online sales.

Since we missed physical contact with enthusiasts and customers so much and urgently needed more space, we looked around for a commercial property. In October 2021 we found what we were looking for and in February 2022 we opened. Five months later we are already very satisfied with our first few months. Many familiar faces have found their way into the store and we were able to meet many new faces with ours
inspire cognacs.

How long have you been involved with spirits? As far as I know, your first passion was Scotch Whisky, right?
In the fall of 2009, I happened to come into contact with the chairman of the local whiskey club. He invited me to a tasting, I caught whiskey fever and my passion began.


When did you try your first cognac and what was it?
I tasted my first good cognac in 2015 at the open house of a small whiskey shop in French-speaking Belgium. They had opened a few cognacs, including the now legendary Lot 65 from Vallein Tercinier. Wow! A new world opened up for me...

Which cognac managed to make cognac the focus of your passion?
The VT Lot 65 just mentioned was a revelation for me. So much complexity and richness of flavors in a single cask. This is how I began a partnership with the then importer and the cognac story began for me.

You were and still are (as far as I know) the only independent bottler that focuses 100% on cognac. What was your motivation to found Malternative Belgium?
A product with so much history, authenticity and different flavors, still unknown to most spirits lovers, just deserves more attention! Of course, cognac is already known to the general public, this is nothing new. However, due to the large number of small producers and their limited presence in the market, it was sometimes very difficult to see the forest for the trees. Therefore, with Malternative Belgium, I have developed a clear and understandable concept that focuses exclusively on cognac.

How long did it take from the idea to the first publication?
We have been working with cognac since 2015. Back then it was even more difficult because many houses were not yet familiar with the principles like Single Cask and Cask Strength. Gradually, the idea grew to also appear as a bottler.

I remember hearing about Malternative Belgium for the first time through Whiskyfun and your first release sold out very quickly. Did you expect such success?
Our selection of casks is always based on the highest quality without compromise. A good product is the basis and we are convinced that there is no need to worry about interest.


What is your philosophy when choosing casks?
We don't specifically look for vintages, alcohol levels or crus. Quality always comes first. For us, quality is a balanced eau de vie with a rich flavor profile made up of at least three flavors. Cognacs with a traceable origin, made by the best in their field.

Do you have a preference when choosing casks (cask strength vs. diluted, single cask vs. blend, etc.)?
With the exception of our two Christmas editions, we have always bottled at cask strength. Reducing with water is a time-consuming process and must add value. Since our cognac are usually more than 30 years old, nature has already done its work here. Due to evaporation, the alcohol content has decreased and they are already slightly lower in alcohol content and very concentrated and complex, with a smooth taste. With younger cognacs it may be necessary to add water to counteract some of the sharpness and acidity.

Do you only select casks that are "natural" or do you also bottle cognac that has added sugar, coloring or boisé?
We have not yet bottled a single cognac to which an additive has been added at our request.

How many casks do you have to taste before you find one you want to release as Malternative Belgium?
I would like to emphasize that we have tasted many more cognacs that we do not want to bottle than those that we do want to bottle! 😊 We have also visited many cognac houses where nothing remarkable could be found by our standards. But when you find that one exceptional quality, we're overjoyed and forget all the effort and the many visits that didn't lead to anything.

How would you describe your relationship with the producers?
This is very important for us! A good relationship is extremely important in order to be able to work together in a transparent and trusting manner. Several cognac houses really make you feel like family.

You write very often about your trips to Cognac. How many trips do you take per year?
At least five times a year. Calculated from the beginning of 2020, that will be around 100 days in total. This is very important to us. Many people don't see how tedious and time consuming it is to select these cognacs from different cognac houses from different regions.

Your bottles always have beautiful labels. Do you work with a single designer for each release or with different ones? What does your "process" for designing the labels look like?
We pay a lot of attention to this because it is our only "shop window" to the outside world. We are always inspired by some facet of the cognac, the house, the history, the region. From there we go in consultation with four artists we work with and look for a suitable concept. We try to use different styles and make each work unique.

Do you have a favorite among the previous releases? If so, which?
That's a difficult question, Sascha! It's like asking which of your kids is your favorite - everyone thinks it but nobody says it 😊

Which barrel was the hardest to get? Have you tried kegs that you loved but the maker didn't want to sell?
It happens very often that when you travel, you think you've found something great, but it's not possible to bottle it. The French, the French legislation, unfortunately there is no manual for it.

How do you see the current market for cognac in the EU and in general? More and more whiskey drinkers are curious about Malternatives. Do you notice this in your communication with producers, cask availability and prices?
In 2015, when the cognac story began for me, many houses had not yet realized that they needed to renew themselves. They relied purely on tradition. In the meantime, the market for connoisseurs looking for unique cognacs is growing rapidly. As with everything else, the balance between supply and demand plays an important role here. I always say there is a lot less aged cognac than aged Scotch whiskey. Unfortunately, it won't get any cheaper either.

What does your typical customer look like? Is it an avid cognac drinker or someone switching from whiskey and other spirits?
We have customers with very different profiles. Many actually come from the whiskey scene. Many are lovers of quality spirits. Hedonists who prefer quality to quantity. That is also our message.

Your Cognac #15 and the first Les Bons Vivants came out recently. How many more releases do you already have planned?
We aim to release about 6 pieces per year. But that can depend on the number of bottles, sometimes it's only 42 pieces, sometimes 500. We definitely don't want to create an oversupply and saturate the market with releases.

What do you drink when you don't drink cognac?
Although I buy far fewer bottles, I'm still a whiskey lover. I can appreciate a good armagnac and rum every once in a while. And as a true Belgian, there is of course always a good beer within reach 😊 😊.